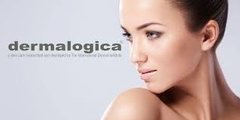 Your best skin starts in our hands
Why should your hair and nails get all the love? The case for professional skin care is a compelling one.
Skin treatments are sometimes regarded as extravagant – something to indulge in for a special occasion or a lusirious treat, not something to be booked with regularity. Happily, as more and more people begin to realize the importance of tending to their skin, their mindset has started to change.
After all, skin is alive, it's your body's largest organ, a hard-working cover that does everything from protect against environmental assaults to eliminate toxins from the body. Your skin deserves – and will benefit from – being tended to and properly cared for by a professional who can hone in onits specific needs (and your particular concerns).
"Think about what your skin encounters daily," says Sally Penford, Education Manager for Dermalogica and The International Dermal Institute. "There are all the products you pile on before yo leave the house. Then there's air pollution, UV radiation, temperature changes, sweat, oil, dead skin cells…you can only do so much at home to keep your skin in check."
From treating oily skin like dry skin to confusing a "skin condition" with a "skin type", the simplest mistakes can have a significant impact on the overall state of your skin. Penford recommends seeking the guidance of a Dermalogica skin therapist, who can help you avoid wasting time and money on what doesn't work – and invest more in what does work.
"Expense is one of the perceived obstacles that prevent people from pursuing a professionally-overseen skin care regimen," she adds. "Many women believe that caring for their skin is something only the rich can afford. But then they spend big bucks on make-up to camouflage their skin. That's money that could be better put toward making their skin look healthy and naturally-glowing."
Time constraints are another self-imposed hurdle. Cutting out a round of your latest mobile game addition or skipping an hour on Facebook could free up just enough time to get your skin in great shape. After all, a Dermalogica Microzone Treatment that focuses on a specific concern only takes 30 minutes, and a full blown customized Dermalogica Skin Treatment only takes 60 minutes.
"It's all a matter of perspective," says Penford. By reprioritizing what "beauty" means to you and shifting where you spend your time and money, you could be on the road to your best skin ever – right now!
Dermalogica.com livingskin vol.2