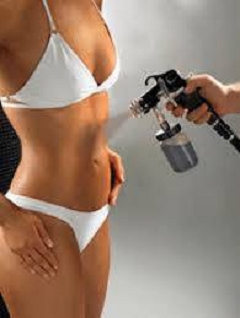 Do you have a special occassion this Summer or are you just looking for that healthy glow? Spray tanning is a great alternative to tanning beds or sun bathing. Here are some useful tips on how to make your tan last.
1. Prep your skin by exfoliating your body the day before. Pay special attention to areas of dryness such as knees and feet, don't forget to moisturize. Also shave or wax the day before your spray tan as shaving and waxing will remove the tan again.
2. Remove make-up for best results.
3. If you have long hair, wear it up.
4. Remove any deodorant right before you spray tan – the tan may not adhere to your skin in those areas.
5. Best skip the moisturizer right before your spray tan. Same as with the deodorant and depending on type, the spray tan may not adhere well to your skin.
6. However, continue to moisturize the next day. Using moisturizer regularly will prolong the life of your tan.
7. Wear dark, loose clothing to and from your appointment to avoid any staining or rubbing off before your tan has completely settled. You definitely should avoid wearing tight fitting sports bras or socks, etc. as well.
8. Avoid hot, sweaty activities. Go easy around water the day you are sprayed.
9. Understand that pools and hot tubs may shorten the life of your spray tan.
10. After a shower, gently pat your skin dry. Rubbing may remove the tan.
11. It's a good idea to have nail polish on your fingernails and toes to avoid staining of your nails.
12. If you are planning on having a pedicure or manicure as well, have the pedi/mani before your spray tan.
13. The spray tan may also stain your sheets.
14. Acne spot treatments, products containing Benzoyl Peroxide and face masks may remove the tan and lead to streaking or spotty appearance.
15. Do not exfoliate with body scrubs until your tan starts to fade.
16. Be sure to use Sunscreen. You can mix an unscented body moisturizer with your sunscreen for extra moisture.
17. Limit shaving of your legs, this is also a form of exfoliation. Products like Nair will remove your tan as well.