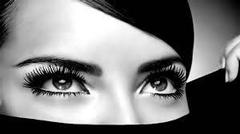 TLC for Sensitive Eyes
The delicate eye area is taking quite a hammering at the moment not only from environmental challenges, which play havoc on our eyes. A common cause of redness and itchiness around the eyes is hay fever (allergic rhinitis), occurring mostly in spring and summer. Or it may be atopic dermatitis caused by the inhalation of allergens, such as pollen, dust or animal fur, which trigger inflammation.
We're also in the era of the 'super lash', just about every other person is wearing eye lash extensions or false lashes, or using eye growth serums—all of which can be quite irritating and sensitizing to the eyes.
Here are some easy things that can be done to care for red, itchy eyes.
1. Ensure makeup is removed thoroughly using a very gentle, fragrance and S.D. alcohol free eye makeup remover. It will need to be water soluble to ensure that all traces of the product and makeup is leaving no residue (perfect for the contact lens wearer). Choose one with the added benefit of built-in lash conditioners (Silk Amino Acids) that prevent lashes from becoming dry and brittle, as well as keeping the skin around the eye area soft, hydrated and smooth.
2. To help alleviate dry eyes, place a few drops of artificial tear drop solution; or for red eyes, try some vasoconstrictive eye drops.
3. When the eyes feel, red, puffy and irritated, place a cold compress or cooling eye packs over them for 5 to 10 minutes. A cooling, hydrating eye masque (kept cool in the fridge) can also be used around the eye area, underneath the compress.
4. To alleviate the dry, itchy skin, apply a reparative and intensely nourishing protective eye cream (fragrance free) each evening. Key ingredients will include Vitamin A, C, E and Pro-Vitamin B5, as well as soothing botanicals such as Green Tea, Cucumber Arnica and Butcherbroom
5. If the eye area is very dry and in need of a 'super protector', apply an anhydrous moisturizer that melts into the skin, repairs the natural barrier lipid layer and reduces irritation and dryness.
6. Wear hypo allergenic makeup that has been screened of all known irritants.
7. Lastly, we should all know the ultimate skin sin by now—never, ever go to bed with your makeup on!
Ensure everything placed near or in the eyes is super clean. Makeup brushes need to be washed in an antibacterial cleanser monthly, contact lenses need to be changed regularly and always kept thoroughly clean.
It's also important to check eye makeup and eye care products; have they been shared with anyone who may have an eye infection? Could your products be rancid, or well past their use by date harboring fungi or bacteria? It's not common knowledge among makeup users that mascara is only supposed to be used for two months before discarding, perhaps this is the cause of the eye sensitivity.
As red, itchy eyes can also be a result of an eye infection, it's important to seek medical advice from a doctor if symptoms do persist.
Dermalogica.com