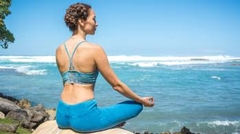 Tips for Harmonious and Happy Travel
Two well-traveled yogis offer guidelines for a blissful voyage
Mentally gearing up for a vacation is exhilarating; maintaining a relaxed state of mind in the midst of traveling to your destination can often be the opposite. To guide you in keeping your cool, we've reached out to two of our newest #AvedaPartners, yogis Allie Michelle and Miki Ash who will be joining us this July as we travel to Wanderlust Squaw Valley.
Here, Allie and Miki offer their best travel tips and tricks:
ALLIE MICHELLE, @alliemichellel Yoga Instructor, Blogger: Alliemichellel.com
Allie's Best Travel Tips: Set yourself up so that you aren't stressed and can just breathe through the entire trip. I always bring essential oils with me for digestion, immunity, and relaxation. I also make sure that I'm extra early to wherever I am traveling so that I'm not even worrying about time, and I must always have a good book.
Allie's Secret Yoga Tricks For Calm Travel: Nadi Shodhana breathing is my pranayama practice when I travel. It's nostril breathing that works both sides of the brain and opens up your sinuses so it's perfect for air travel. It helps create a space for you to be present in your body. I also always do a toe stand after I get off the plane to stretch out my feet. And later, a headstand is an excellent posture for jet lag.
Allie's Travel Essentials: I carry oil face wipes, such as the Outer Peace™ Acne Relief Pads, for the plane as well as toner to keep my skin clean and moisturized.
MIKI ASH, @mikiashyoga Yoga Instructor, Blogger: mikiashyoga.com
Miki's Best Travel Tips: As someone who loves to be prepared, I make sure to pack in advance, and have my passport in an easy to grab spot so I can move through the airport with ease. I also always pack lotion, gum, lip balm, essential oils and a reusable water bottle in my carry-on to make the flight as comfortable as possible.
Miki's Secret Yoga Tricks For Calm Travel: I tap into the power of yoga just by switching up the position of my legs to keep circulation flowing. Cross-legged and folding forward is a nice and compact way to give the hips a yummy stretch mid-flight.
Miki's Travel Essentials: My #1 must-have is essential oils. I love Aveda's bergamot and peppermint oils; and the Lavender Fleurs Oil in particular for a flight, as it keeps the nervous system calm and turns the musty plane air into a spa-like experience.
If you're loving Allie's and Miki's travel tips, share them with your friends on Facebook using the hashtags #LivingAveda and #Wanderlust2016. And to feel inspired and find your true north, be sure to follow @alliemichellel, @mikiashyoga and @aveda throughout our Wanderlust Squaw Valley journey, July 14-17. The Aveda Beauty Bar will help to keep all the Wanderlust yogis relaxed and beautiful during this 4-day celebration of mindful living. If you're there, please stop by!
Make certain to pack your Aveda must-haves for smooth and carefree travel:
See More from Living Aveda