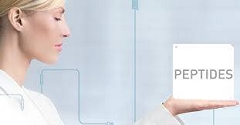 The Cell Whisperers
Peptides are having a huge impact on skin care, but how do they work?
If you took chemistry in your teens, you may have a vague recollection of what peptides are. Does the definition "two or more amino acids linked in a chain" ring any bells?
What you perhaps didn't learn – or care about back then – is that peptides are like "cell whisperers" that modify behavior deep within our skin. They're so good at this that, even when synthesized in a lab and applied topically, they can work wonders on a wide variety of skin issues.
"Peptides are fragments of amino acids made to mimic natural processes in our skin," says Dr. Diana Howard, Vice President of Research and Development at Dermalogica and The International Dermal Institute. "For example, specific peptides are capable of stimulating the cells that make collagen and elastin, the key proteins responsible for the strength and integrity of our skin."
Their biological effects and potential to be synthesized have made peptides one of the more exciting (and promising) skin care ingredients of recent years. According to Dermalogica Global Education Developer Whitney Johnson, these talented little molecules are remarkably versatile, hard-working and multi-faceted.
"Peptides can be customized to address different concerns in the skin", Johnson says. They are effective in treating such diverse skin concerns as aging (by stimulating more collagen, elastin and production of Hyaluronic Acid – our skin's natural moisturizer), discoloration (by controlling the formation of skin pigment, or melanin), and even sensitive skin issues like hyper-reactivity and inflammation.
As Dr. Howard says, "The peptides used in skin care are synthetic and able to enter skin cells, communicate with them and direct them to behave in a certain way. And, because different peptides influence different types of cells, the possibilities of addressing myriad concerns and conditions are multifold."
Directing cells to behave in certain ways may sound like the kind of thing science fiction stories are based on, but when it comes to getting results from your skin care products, it really helps when cells can be stimulated to perform specific tasks.
So, whether you're after plumper, smoother skin or a more balanced skin tone, there's a peptide out there just waiting to do your bidding.
Peptide-rich products for your skin concerns:
Dermalogica uses 17 different peptides proven to address multiple skin concerns. Which one is right for you?
Age Reversal Eye Complex
Contains Dipeptide-2 to condition and firm skin.
Extra Firming Booster
Features Hydrolyzed Wheat Protein to firm, nourish and smooth skin.
Overnight Retinol Repair
Contains Palmitoyl Tripeptide-5 and TAUT peptide to optimize collagen formation.
MultiVitamin Power Recovery Masque
Features Palmitoyl Tripeptide-7 to improve skin tone and elasticity.
Overnight Repair Serum
Contains Palmitoyl Tripeptide-38 to aid the skin's natural regeneration process.
MultiVitamin Power Serum
Features Palmitoyl Hexapeptide-14 to firm skin and address signs of aging.
Power Rich
Contains skin-conditioning Soy Protein and Palmitoyl Pentapeptide-r to help stimulate collagen synthesis.
Super Rich Repair
Contains Palmitoyl Oligopeptide to help stimulate production of collagen and Hyaluronic Acid.
Dynamic Skin Recovery SPF50
Features ARG-LYS Polypeptide to impact the triggers of skin aging.
SkinPerfect Primer SPF30
Contains two Dipeptides to firm and strengthen skin.
C-12 Pure Bright Serum
Features Oligopeptides-34 and -51 to fight signs of hyperpigmentation (brown spots).
UltraCalming Serum Concentrate
Features Acetyl Tetrapeptide-15 to diminish sensitivity and redness.
UtlraSmoothing Eye Serum
Contains Hexapeptide-11 to improve skin firmness strength and elasticity.
Dermalogica livingskin vol.1