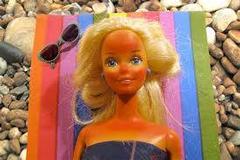 The sun. People have worshiped it for thousands of years. But only in the last century have people worshiped the sun by baking themselves to a golden tan, which occasionally turns into an angry red burn.
If you overexposed your skin to the sun and ended up with a sunburn, there are soothing and calming products and home remedies that can make you a bit more comfortable until Mother Nature can heal the burn. Keep in mind, though, that these remedies cannot reverse the very real damage caused by unprotected exposure to the sun's rays. UV radiation is the leading cause of premature aging and skin cancer.
1. Ahhh, Aveda's Intensive Hydrating Masque
This aloe based clear masque can be kept in the cooler or refrigerator. Apply to cleansed skin and leave on for 10 minutes. Rinse off with cool water. This favorite can be used by the entire family.
2. Dermalogica's Ultra Calming Line
Developed specifically for people with sensitive and sensitized skin these products are ideal to take the sting and red out. Ultra Calming Mist can be applied throughout the day to affected area, it adds hydration and calms. The same is true for the Ultra Calming Serum Concentrate which is applied like before you put on your moisturizer and makeup to calm your skin throughout the day. To avoid overexposure in the future, try Super Sensitive Shield SPF. This SPF product can be easily mixed with your existing moisturizer or worn alone.
3. Oatmeal
Oatmeal added to cool bathwater offers another wonderful relief for sunburned skin. Fill up the bathtub with cool water - not cold water because that can send the body into shock. Don't use bath salts, oils, or liquid soaps. Instead, scoop 1/2 to 1 cup oatmeal - an ideal skin soother - and mix it in.
4. Cool Compresses
Soak a washcloth in cool water and apply it directly to the burned areas (do not apply ice or an ice pack to sunburned skin) for several minutes, rewetting the cloth often to keep it cool. Apply the compress multiple times throughout the day as needed to relieve discomfort.
5. Greek Yoghurt
Use plain full-fat Greek yogurt (non-fat does not work as well) and apply it in a semi-thick layer to all sun burnt areas. Wait for about 20-30 minutes for it to dry. Once the yogurt has dried, rinse it off with luke-warm water. Don't use a washcloth or loofah, as this will irritate your skin further.

6. Moisturize
The sun dries out the skin's surface and causes cells and blood vessels to leak, causing even greater moisture loss. In addition, while cool baths and compresses can make you feel better, they can also end up robbing moisture from your injured skin. To prevent drying, apply moisturizer immediately after your soak. For cooling relief of pain and dryness, chill the moisturizer in the refrigerator before using.