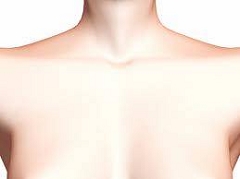 Most women give the décolletage no more than a quick wash in the shower, often paying more attention to hydrating the arms and legs than the chest area. Harsh soaps, perfumes and UV radiation accelerate the loss of moisture in the delicate skin and increase age spots.The dreaded aligator skin creeps up almost unnoticed!
In the 16th century, a beautifully-conditioned décolletage was a status symbol of wealth and beauty. Later on women wore dresses that exposed the bosom and shoulders as a sign of beauty. Women throughout the ages have paid a great deal of attention to their décolletage.
I encourage you to modify your skin care regimen and give that décolleté back its status!
Use a gentle cleanser, avoid drying soaps. During the hotter Summer days try Dermalogica's Special Cleansing Gel to refresh your skin and in the dryer Winter season choose Essential Cleansing Solution for added hydration.

Gently exfoliate the skin twice a week. Great choices are Dermalogica's Skin Prep Scrub or MultiVitamin Thermafoliant.

Apply age-management moisturizer and serum recommended for the décolleté, such as MultiVitamin Power Serum or Aveda's Green Science Serum.

Use a broad-spectrum sunscreen every day, reapply as needed at times of intense sun exposure.
And remember, cleansing and conditioning of the décolletage is always part of my facial treatments!