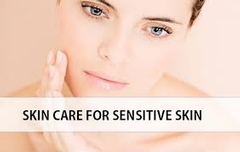 Sensitivity: genetic, or environmental?
Many people say they have sensitive skin because skin care products, or household products that contact their skin, cause stinging, burning, redness, or tightness. Or they say they have it because even though they have no visible effects after contact with a product, it always makes their skin feel uncomfortable
A true sensitive skin condition is caused by a genetic predisposition, commonly found in those who have very fair skin and usually of Northern European ancestry. This could be caused by the lower amount of pigment and a thinner epidermal skin layer (the epidermal layer is the top layer of skin we can see).

Sensitized skin can affect any person of any racial background or skin color. Symptoms for sensitive and sensitized skin do have a lot in common (itching, burning, redness, flushing and stinging), but in many cases, sensitized skin can't be seen by the naked eye, as it resides much deeper. And, our microclimate, or the climate we are exposed to in our home, cars, offices and during air travel, changes daily; meaning our level of sensitization can vary.

Proper diagnosis of a sensitive or sensitized skin condition is critical to proper treatment. Consult a professional skin therapist to determine the source of your skin's sensitivity.
Reducing Redness
Whether genetic or environmental, you may not be able to completely banish redness, but you can take steps to help control it.
Wear a sunscreen daily: look for one containing calming ingredients like Green Tea and Licorice to help soothe and control flare-ups. Choose moisturizers containing green natural mineral tint (not an artificial color!) to help cancel out visible redness.

Be mindful of what goes in your body. Smoking is somewhat like suffocating the skin from the inside: it inhibits the body's ability to provide oxygen and nutrients to skin while restricting blood vessels. Excessive intake of alcoholic beverages and certain medications (such as nasal decongestants) can also contribute to dry skin, leaving skin more susceptible to sensitivity.

Don't over shower or over-scrub: The loss of existing oil is commonly caused by excessive bathing or showering, or the use of harsh soaps that dissolve the protective layer of oil.

Never ever shave without a protective medium. Using dull razors can also weaken the skin's barrier function, leaving it exposed to environmental assaults.

Take note of what triggers the "red" reaction in your skin: certain foods such as artificial sweeteners or spices can bring on the flush look. Also be aware of your hormones, stress levels, physical exertion, and adrenal shifts.
What is your biosensitivity score?
Take our quiz to assess the severity of your flare-ups and redness. Simply add up your totals and match them to the key below.
Certain foods make my skin flare up.
0 Never
1 Sometimes
2 Frequently
3 Always
My stress level is:
1 Low
2 Moderate
3 High
When I am stressed, my face/neck/chest react with redness.
0 Never
1 Sometimes
2 Frequently
3 Always
My skin itches/burns in response to fragrances, certain fabrics, etc.
0 Never
1 Sometimes
2 Frequently
3 Always
I have dry patches on my skin that are tight and itchy.
0 Never
1 Sometimes
2 Frequently
3 Always
I live in a metropolitan/densely-populated area.
0 No
2 Yes
I have seen a skin care professional for microdermabrasion, retinol, peels or Isotretinoin.
0 Never
1 Within the past 6 months
2 Within the past month
What your score reveals:
1- 6 Your sensitivity is noticeable enough to cause you discomfort, but can be managed with extra attention from targeted UltraCalming™ products designed to supplement your current regimen.
7+ Your BioSensitivity score is high, and UltraCalming™ should be your primary regimen for serious relief of sensitized skin and flare-ups.
Ask your skin therapist for a Face Mapping® skin analysis and customized UltraCalming™ prescription.