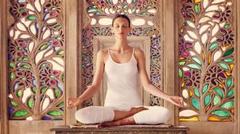 Relief and Restoration
5 tips for alleviating holiday stress, from Aveda wellness expert Marc Zollicoffer
The holiday season is typically filled with joy, happiness and lots of laughter, but sometimes our busy, stressful holiday schedules can get the best of us. It's during these times that it's beneficial to take a moment of wellness to reinvigorate the spirit.
Here, Marc Zollicoffer, our Director of Professional Spa Education, offers some tips for wellness during the holiday season that will help keep you even-keeled and as happy as a holiday elf:
1. Be Grateful: Gratitude can increase our well-being and happiness, while elevating our energy, optimism and empathy.

2. Connect: If you are experiencing feelings of loneliness or isolation, seek out friends and family, and/or community organizations to spend time with, talk to, volunteer with, and to ultimately connect with over the holidays.

3. Set Real Expectations: Choose a few holiday traditions to hold onto and be open to creating new ones as rituals often change. It's important to remember that life is full of changes and perfection is not the goal.

4. Let It Go: The holidays are not the time to take on challenges with your friends and family. Learn to let it go when someone disagrees with you and take it on at an appropriate time. Have patience with those who do tend to get stressed out during this season.

5. Break To Breathe: Make time for yourself by spending 15 minutes alone each day to refresh and restore. Find something that allows you to clear your mind, slow your breathing and return yourself to your inner calm.
Share these stress-relieving tips with your friends and family, on Facebook and Twitter using the hashtag #LivingAveda
And gift them with extra calm this season with these Aveda gifts sets: