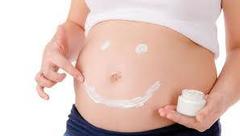 Pregnant Pause
A guide to the skin care ingredients you can (and can't) use while expecting
If only the "glow" of pregnancy was enough to carry our complexions through 40 weeks of gestation, staving off acne, wrinkles, fine lines, discoloration and the other issues we typically face.
Unfortunately, while increased blood flow may very well impart a rosy blush, it does nothing to help mitigate the fact that many of the most effective, go-to ingredients in skincare are questionable during pregnancy.
Dermatologists say the biggest concern is whether these ingredients will be absorbed into the blood stream in a way that could potentially affect a baby. The difficulty in knowing what's safe, and what isn't, is that there are few medical studies done about pregnant women. Why? Expectant mothers won't typically expose their in-utero offspring to potentially harmful chemicals just to participate in a clinical trial.
So, what's a mom-to-be, who's come to rely on heavy hitters like retinoids and hydroxyl acids, supposed to do to keep her skin looking great and her baby safe? It's as simple as making some informed decisions and safe swaps.
Retinol may be the gold standard in waging the war on wrinkles and improving skin tone, but peptides are the baby-safe alternative for stimulating new formation of collagen, which supports the body's tissues and keeps skin firm and tight. Also antioxidants like Green and White Tea, and Ginkgo Biloba, fight free radicals and inhibit the breakdown of collagen and elastin.
Salicylic Acid, heralded as an acne slayer and found in many exfoliants, is on our "don't use while pregnant" list, but Lactic Acid (a hydroxyl acid) is a great alternative. Both help increase cell turnover for smoother skin, but Lactic Acid has additional hydrating and brightening properties. Doctor approved Kaolin and Bentonite clays also work to draw out impurities from pores and regulate sebum production.
On the good-news/bad-news front, while Hydroquinone may be your preferred hyperpigmentation (brown spot) figher, it's a complete no-no.
"I don't recommend anyone, pregnant or not, use Hydroquinone" says Dr. Diana Howard, Vice President of Research and Development for Dermalogica and The International Dermal Institute. "The risk of genetic mutation and cellular toxicity is too great to expose anyone to this chemical whitener. I prefer the peptides such as Oligopeptides 34 and 51, along with stabilized forms of Vitamin C and Algal (as in Algae) extracts to help with skin brightening and sun-induced spotting." Such ingredients can be found in Dermalogica's PowerBright TRx" line, designed specifically to address brown spots, discoloration and uneven skin tone.
Dermalogica skin therapists say the best way tocontend with melasma – the dreaded pigmentation "pregnancy mask" that often results from the onslaught of hormones coursing through our bodies – is to wear a Broad Spectrum physical sunscreen with an SPF of 30 or more. For adequate protection, look for ingredients like Titanium Dioxide, found in Dermalogica SkinPerfect Primer SPF 30, Super Sensitive Shield SPF 30 and Ultra Sensitive Tint SPF 30.
"Don't forget to reapply sunscreen after swimming, sweating or wiping your face," says Dr. Howard.
Livingskin Vol.1 2015