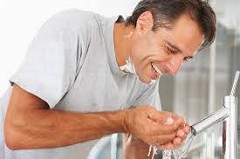 June is Men's Health Month – Men Have Skin, Too!
Having a bathroom cabinet full of products to keep your skin looking youthful and vibrant may seem overly feminine, but the truth is that men have skincare needs. For decades, using anti-aging skincare products was seen as decidedly unmanly, but things have changed in recent years. There's been a huge spike in the men's grooming and hygiene market, and more men are realizing that taking care of their skin yields desirable results.
There are health reasons – your skin is a detoxifier!
Health Reasons? That's right – our skin is the largest organ in our body. Just because it is on the outside does not make it any less important than our hearts, livers or kidneys. Our skin is actually supposed to help detoxify our bodies along with the kidneys and liver. If your skin is dry, damaged by sun, weather, or just plain hard work, it isn't functioning well.
What is an easy skin care regimen?
It doesn't have to be difficult or drawn out. No more bar soap! Bar soaps are drying to the skin with an alkalinity level between 9 and 11, and leave a film behind. A good cleanser can easily be used in the shower, exfoliating with a scrub twice a week will keep your skin from looking dull and a light moisturizer with sunscreen finishes the job.
Both Dermalogica and Aveda have a great line of products that are specifically tailored to men – no girly smells there. You will appreciate how they improve your skin.
Watch out for Harmful Ingredients!
Your skin can also be harmed by using products containing mineral oil. Mineral oil is the most aging thing you can submit your skin too, aside from the sun. It is in almost all of your drugstore moisturizing products, sadly. It is a by-product of the petroleum industry and is the same thing as motor oil – that's right, the same stuff you put in your car – it has just been refined more. It coats your skin making it impossible for your skin to detox. To add insult to injury, it also draws water to itself. Anytime we use mineral oil we are literally drying our skin from the inside out. Other irritants are artificial fragrance and alcohol: artificial fragrance is the main culprit in causing allergic reactions and alcohol dries and irritates. There are much better botanical choices containing plant essences.
Routine Maintenance!
Having a facial treatment three to four times a year can be very beneficial. Our skin care treatments are custom tailored to your skin needs, we give recommendations and advice how to improve your home care and you get to relax for the duration.
Did I mention the Sunscreen?
Sunscreen should be part of your every day routine. Apart from UV radiation being the main cause for signs of premature aging it will help lower your skin cancer risk. Skin cancer is very much on the rise, protect yourself – regularly. Keep an eye on any changes in your skin and see a physician for a yearly skin screening.
What about the excess hair?
So you have back hair, I know. Most adult men have hair in places where they don't want it. Guess what, it can be easily waxed off. At Leissa's we provide a full range of waxing services for men from your eyebrows to your toes and anything in between. Please try to forget the sceene from "40 year old virgin". Reality is nothing like the movies, but you knew that.
I invite you to stop by and talk to us about your skin!