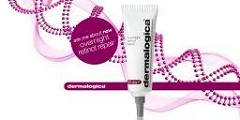 Now, we are proud to present the latest addition to AGE Smart®, Overnight Retinol Repair. Retinol is one of the most powerful, and popular, ingredients sought out by consumers and recommended by medical professionals to help diminish visible wrinkles, fine lines and hyper pigmentation. Studies have shown that Retinol possesses
remarkable abilities to restore the structural integrity of the skin.2 However, there are limitations to Retinol use due to its fragile chemical nature and tendency to induce inflammation on the skin. Exposure to UV light, air and water can all threaten the stability and efficacy of Retinol, which is why innovative formulas such as Overnight Retinol Repair must be designed to ensure Retinol molecules remain stable. In addition,
care must be taken to help clients build their skin's tolerance to highly-active and effective forms of Retinol in order to maximize results and minimize discomfort. The skin experts at The International Dermal Institute and Dermalogica carefully considered the challenges of working with Retinol when formulating Overnight
Retinol Repair. The result is a concentrated, stabilized nighttime formula that can be customized for optimum comfort as it works to firm, smooth and restore the skin's structural integrity.
Key ingredients:
Active, microencapsulated Retinol (0.5%) induces collagen synthesis and helps reduce visible fine lines, wrinkles, discoloration and uneven skin texture.

Powerful Peptides help boost collagen production, firm skin and increase hydration and tone.

Antioxidant, collagen-stimulating Vitamin C enhances collagen biosynthesis and brightens and evens skin tone.

A bioenergized Copper amino acid complex helps reduce visible wrinkles and improve skin firmness.

Ceramides and active Polysaccharides hydrate and prevent water loss in the skin, helping soften fine lines.

Licorice and Lavender help soothe the skin
Bonus Buffer Cream!
This gentle moisturizing formula helps clients control the concentration of highly-active Retinol in Overnight Retinol Repair as their skin builds tolerance to it over time.

Moisturizing 8% Aloe Vera gel extract base helps sooth the skin,

Sodium PCA provides excellent hydration.
Microencapsulated for maximum results
Overnight Retinol Repair is formulated with an advanced microencapsulation technology that keeps Retinol from degrading and allows it to penetrate deep with superior results. It also creates an invisible shield that helps reduce moisture loss.
Works at night, when cell renewal is at its prime
To optimize skin renewal, Overnight Retinol Repair works with the body's natural nighttime circadian rhythms, or shifts in biological activity governed by the body's biological clock and its responses to light and dark.
Call or stop by to find out more about this exciting new product. Our skin therapist, Barbara, will be happy to help you! Mention this blog and receive a free sample – hurry, supplies are limited!