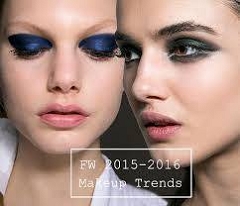 One of the biggest noted trends for the season includes the look of dramatic eyes, so if you love playing around with eye makeup this will truly be your season! From metallic shades, to long lashes, twiggy lashes and even ombre inspired lids. Don't be afraid to turn up the drama when it comes to crafting your go-to lids. However, if makeup is not your thing, or if a natural looks capture your heart, you'll be happy to know that your style is preferred as well this season. For some designers, the less is more philosophy was well into play with many makeup artist creating looks that showcase healthy glowing skin and sparkling iridescent eyes. Soft pink hues and neutral browns are the key to pulling off that simple girl next door vibe.
1: Looking Totally Natural
While putting on makeup can make a woman look positively stunning more often than not, there is nothing better than seeing a lady with a bare face, minimal products used and an entirely natural look. A healthy complexion that is clean and clear and under control is most definitely still top of the list of biggest makeup trends for fall 2015. It does require having mastered caring for your skin first so this is also the time to update your skin care regimen.
2: Cat eyes have come back to stay
Cat eyes are a huge staple for the cooler seasons of the year, when our faces will reflect our beauty better than our garment-clad bodies that hide much of what is underneath. From small cat eyes to all out Cleopatra look, it's for your to decide.
3: The Twiggy Makeup Look of the 1960s
We may be all about the 1970s this year, but the 1960s, 1990s and the 1980s have crept in from the side doors in interesting combinations to give us some of the best those decades had to offer. Here, we see those really bold and Twiggy lashes that have been separated in clumps. Since it has been a sitting trend since the spring/summer 2015 season Fashion Weeks, we know that we can walk out with those twig lashes and still be loved instead of written off by the fashion police.
4: From Sultry to Smoky Eyes
The eyes always seem to have the perfect pop when you smudge in some grey in lighter or darker hues, or even some brown to give it that perfect manifestation of a shadow. This is paired with gorgeous lashes applied with mascara, the brows blotted out for the most part. Dark smokey eyes are a beautiful focal point.
5: Working that Liner
The best cosmetic tool used for the fall and winter season's collection presentations was the eye liner in all its glory. Different designers used it for different purposes, but all created bold graphic lines and designs to add an edgy touch to rather minimal look.
6: Red Lips
Red is back! Red lips come in a range of colors which includes berry tones. Play around a bit and try out what works for you! Here is at tip to get it off at the end of the night: use a good face oil instead of the skin cleanser. Dermalogica's Precleanse solution or the composition oils from Aveda will eradicate any trace.
7: Lips in the Nude
Nude lips are a beautiful addition to a dramatic eye. When the focus is on the eyes you want to tone it down a bit on the lips. Chose a simple shade and add a dab of lip gloss to the top and bottom middle of your lips.
8: Lots of Metallic Shine &Sparkles
It was a big spring trend and it appears to have made its way into the fall and winter as well. Glitter and gold come to life with the Old Hollywood looks given the latest fads. This was to be expected. The sparkles can come as shimmers as well. A beautiful combination is dove gray with white shimmer
Photos by Stylebistro