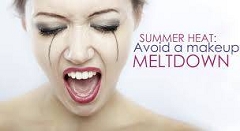 Make-up products have come a long way and when applied correctly can take you easily through a day. Sadly though, no makeup is meant to last all day and with the hot summer months and outdoor activities, keeping make-up on throughout even an afternoon or evening can be a challenge. I'd like to share with you some helpful tips and tricks to prolong your flawless glow without a major melt down.
Prep Your Skin:
Don't skip the moisturizer. You may choose a lighter moisturizer for the summer and ideally your moisturizer already contains SPF, saving you an extra step. Dermalogica carries several moisturizers with SPF for all different skin types (no more breakouts) as well as a Solar Defense Booster which can be mixed with your SPF free moisturizer to give it SPF.
The Natural Look:
For a more natural look, try a tinted moisturizer from AVEDA with SPF 15. You can apply a little translucent power across the T-zone to prevent too much shine. Easy on the powder though for mature skin, it likes to settle in fine lines and wrinkles.
Prime it:
For foundation wearers, learn to prime first. Think spackle: make-up primer is a fantastic vehicle to make your foundation stay in place, hide fine lines and flaws, mattify and provides SPF. Dermalogica carries a beautiful Skinperfect Primer with SPF 30.
Conceal it:
No need to skip the concealer. AVEDA's concealers go on like liquid and set like a powder in very short time. No shine there.
Foundation:
For the summer a liquid or cream foundation may do a better job for you. Apply it with a brush or dab it on with a sponge. AVEDA's dual foundations, even though they are powders, can be applied with a wet sponge as well.
Color them:
Before your apply eye shadow, prep your eye lids with AVEDA concealer over the entire eye lid. Let it set for a minute and then apply your eye shadow. No more creasing!
You may opt for waterproof mascara and waterproof eye liner to avoid smudging throughout the day. Be sure to carefully remove your eye make-up at night to avoid breaking off your lashes.
The Cheeks:
Try a bronzer for a beautiful glow. Apply it to your cheeks and long your hair line and forehead.
The Lips:
Choose a light lip glaze or lip gloss for a lighter look. If you prefer to wear lipstick, prime your lips with concealer, let is set and then apply your color.
Spritz it:
Try one of our Dermalogica or Aveda toners to set your make-up and refresh throughout the day!