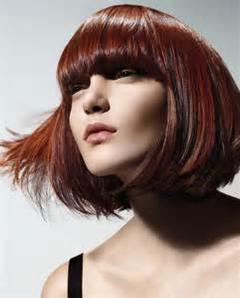 Ingenious Short Cuts
Five haircuts that help hair look fuller and thicker
While many of us love the idea of extra-long locks, if our hair is thinner than we'd like it to be (and there are plenty of us that feel that way), it's best to keep hair above the shoulders for a fuller, thicker appearance.
"Longer styles can weigh down hair and call attention to any thinness," says Ricardo Dinis, Global Artistic Director, Hair Cutting. "To help hair look healthier and more abundant, consider a shorter, or more layered style."
Here, Ricardo shares with us his five favorite cuts that add bounce and body to thinning hair:
1. ASYMMETRICAL BOB (shown above in Ricardo's cut from Behind The Chair's Color, Cut & Style 2015): A one-length bob is a great cut for a thicker appearance because the asymmetry makes it interesting and works wonders if you pair it with a strong side part. I also suggest adding a fringe since most thinning happens at the top and near the front hairline. Hair will appear denser and the cut will look even more on trend.
2. PIXIE: A pixie is a good option for thinning hair because the shorter layers naturally create volume and movement. Also a pixie is very fashion-forward, will always be in style and exudes confidence.
3. LAYERED BOB: This is a variation on the traditional bob that works well on thinning hair because of the added layers. It's also extremely versatile, easy to style, and ideal for straight, wavy or curly textures.
4. ROUND LAYERS: For those that really don't want to part with their long hair, I suggest a shoulder-length cut with round layers. This hair cutting technique uses layers to help create lift when brushed back off the face. The length at the shoulders allows the hair to keep its shape and not fan out so it looks thicker.
5. GRADUATED BOB: A rounded, graduated bob is perfect for that woman that may have damaged long hair from over-styling that has lead to breakage and thinning hair. This style is very beautiful and lends well to the appearance of thicker hair, while giving hair a chance to grow back without any stress from over-styling.
A few of Ricardo's Aveda Favorites:
Aveda artists have an abundance of tips for fattening up too-skinny strands. And we plan to let you in on all of them. Stay tuned for the perfect hair hues that will instantly add dimension for the appearance of density.
Love short hair? Share this story on Facebook and Twitter using the hashtag #LivingAveda