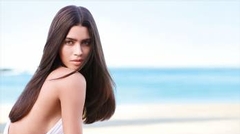 How To Get Smooth Hair - Experts tips for sleek summer strands
While the combination of warmer temps and moister air comes with many things we look forward to all year—the beach leaps to mind—it also delivers one of the biggest hair woes for women of all tress types: frizz.
"Frizz happens when your hair is on the hunt for moisture," explains Tippi Shorter, Aveda Global Artistic Director, Textured Hair. If your hair is even the slightest bit dry, it will draw in atmospheric moisture, separate, and grow toward the sky, she explains.
And although Tippi says there is such a thing as good frizz ("for example, when you've brushed your textured hair while it was dry to give it that fuzzy look on purpose"), she acknowledges that most frizz is unwanted. Hence, these fuzz-fighting tips:
In the shower: Regardless of the texture of your hair, you'll likely want to use extra-hydrating products for cleansing. "Think of how dry your skin gets in the summer; with this in mind, be cognizant that your hair may be feeling the same drying affects," Tippi says, adding that if this is the case then leveling up is equally important for hair. This means seeking out shampoos and conditioners labeled moisturizing, or for dry or curly hair (which tends to be dry naturally). Another tip: Leave about 25% of your conditioner in your hair. It will act as a leave-in product, fighting frizz all day.
Post shower: Blot hair with a super-absorbent microfiber hair towel. Do not scrub the water out of your hair with your towel as this action lifts the outer cuticle layer of the hair leaving it prone to frizz.
When styling: Be sure to use a wide-tooth comb to distribute styling products through your hair evenly and without causing damage (which may later manifest as frizz). And be sure to add a moisturizing styler to the mix (Try Aveda's Smooth Infusion™ Glossing Straightener). Whether it's a heat-protective styling spray, cream-based styler, or oil-based finishing product, Tippi says the more hydration you can layer on (or prevent from escaping), the better. Surprisingly, dirty brushes can cause static—which Tippi says looks like frizz. So be sure to wash yours in warm water and a touch of shampoo monthly.
At night: Sleeping on a silk pillowcase is recommended. "Cotton sucks moisture out of your hair," says Tippi.
At the beach: Use a UV-protectant shine spray (such as Sun Care Protective Hair Veil) to keep the rays from rendering your tresses brittle and prone to breaking. Tippi also suggests using a day in the sun as an opportunity for a deep conditioning treatment: Slather deep conditioner onto your ends, stick your hair in a top knot, and let the sun bake in the moisturizing ingredients.
Like this story? Share it on Facebook and Twitter using the hashtags #LivingAveda and #AvedaArtist.
And be sure to pick up a few key products that helps to create gorgeous, smooth locks:
See More from Living Aveda