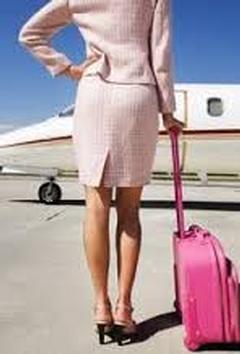 How to Emerge Fresh From the Plane: 7 Practical Tips From Expert Travelers
Traveling abroad has its pros and cons. On the plus side, it lets you explore new cultures firsthand while racking up frequent-flyer miles. The downside? The toll recycled plane air takes on your skin (not to mention, jet lag). "Traveling through time zones disturbs our body's natural circadian rhythms, which not only disrupts the body, but also the skin," explains Geraldine Schefermann, international training manager for professional skin care brand Dermalogica.
So, you ask, what exactly does air travel do to our skin? In general, any environment with less than 60 percent humidity increases transepidermal water loss, or the rate at which our bodies lose water. And since the average plane has just about 10 to 20 percent humidity (40 to 50 percent is ideal), it's no wonder our skin looks dull and depleted by the time we get to our destination.
To find out how skin experts deal with the harmful effects of long-haul flights and overcome jet lag, we interviewed some of Dermalogica's frequent travelers. Below are their top recommendations.
1. Avoid makeup.
"Makeup can contribute to dehydration and irritation in the skin. But if you cannot go without, then take a gentle cleanser with you, preferably something that you can easily use without water. Then layer products, such as hydrating boosters or calming serums, onto the skin to protect against moisture loss."
—Geraldine Schefermann, International Training Manager
2. Consider aromatherapy.
"I use aromatherapy throughout the trip to try to sleep. I blend lavender and chamomile (lavender essential oil has been shown to calm and help people have a deeper, more restful sleep) and rub the mix onto my scalp, lower back and shoulders. I also try to book a foot reflexology or massage immediately after the flight."
—Annet King, Director of Global Education
3. Choose water over wine.
"As soon as I get on the plane I set my watch to the time at my destination. I make sure I look at my watch every few hours and think about what time it is at my destination and what I would be doing if I were there. I also avoid alcohol on the flight and drink plenty of water. I keep my skin hydrated by spritzing it with Dermalogica Multi-Active Toner every hour and apply Dermalogica UltraCalming Barrier Repair and Dermalogica Intensive Moisture Balance throughout the flight."
—Dr. Diana Howard, Vice President of Research and Development
4. If possible, take a red-eye flight.
"If the flights to my final destination are longer than 12 hours, I usually choose a red-eye flight so I can fall asleep easier on the plane. If I can't take a red-eye flight, the first thing I do upon arrival is to take a warm shower, wash my hair, order some sort of soup (usually chicken soup) to my room and then take a nap. I close all the shades and request a wakeup call."
—Sheyla Sevilla, Regional Sales Manager for Latin America and the Caribbean
5. Walk in the daylight.
"When I arrive at my destination I take a quick shower and head outside for a long walk. Being in daylight helps reprogram your brain's neurochemicals. Several hours in daylight also forces me to stay awake until it's time to sleep. Just don't forget the SPF—I only use Dermalogica UltraCalming Super Sensitive Shield SPF 30—as your skin tends to get sensitive due to the dry airplane environment."
—Dr. Diana Howard
6. Lie down to literally "ground" yourself.
"To get your body aligned magnetically to your new destination, lie on the ground to literally 'ground' yourself. Find a park or a beach and just stretch out on your back on the ground and practice abdominal breathing. To help feel less tired, jump in the pool. Swimming under water revives the sinuses by blowing water out of your nose. It's also a great way to clear your head!"
—Annet King
7. Allow enough time for jet lag.
"I have come to accept the reality that jet lag is a simple byproduct of long-distance travel that affects everyone. So I try not worry and get worked up about it. Instead, I give myself one to two days to adjust to local time."
—Ivor Gordon, Vice President of International Sales
BY Alexis Farah · Dermalogica.com