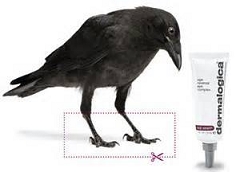 As we all know, the delicate skin of the eye-orbit is the body's most merciless record-keeper of time. Dermalogica®, researched and developed by The International Dermal Institute (IDI), offers new protection against the multiple factors which contribute to visible signs of aging to the eye area with new AGE Reversal Eye Complex.
This multi-benefit complex, designed to be applied to the eye-area after cleansing, fights the multiple signs of aging, including fine lines, wrinkles, hyper pigmentation, and loss of contour. Key to the success of the new formula: retinoid, which contributes dynamically to the reversal of fine lines, wrinkles, sun damage, and darkened areas. This includes "raccoon eyes," the bruised-looking under-eye circles which may become more pronounced with age as skin becomes more transparent and blood vessels beneath the eye become more visible.
"In any face-to-face exchange, we communicate with our eyes even more so than words. For this reason, we are concerned with what our eyes 'say' in terms of their appearance," says Jane Wurwand, Founder and Owner, Dermalogica and IDI. "It's important that we put our best face forward. With new AGE Reversal Eye Complex, the natural vitality of the eye-area is improved."
The skin around the eye orbit is the thinnest on the human body, and has fewer oil glands than the rest of the face, making the area more susceptible to environmental factors (i.e. UV exposure) that combined with mechanical movements, like smiling or squinting, lead to fine lines and wrinkles. With the passage of time, facial skin thins more rapidly, and the tensile strength of underlying tissues declines with the loss of elastin and collagen. Common results are even more physical markers associated with age: puffiness, fatty deposits or bags beneath the eyes, and sagging of the fatty area above the eye-crease, in some cases obscuring the eyelid resulting in a collapsed, fatigued appearance.
AGE Reversal Eye Complex delivers a highly active blend of retinol, peptides, vitamins and botanicals that fortify supporting underlying tissues and refresh the resiliency of surface skin, resulting in a smoother, more responsive skin condition in this fragile area. The highly active blend of botanicals and peptides also helps decrease the permeability of under-eye capillaries, increases blood microcirculation, reduces congestion and improves lymphatic drainage, which addresses key causes of "shadows" and "bags" under the eyes.
The secret to the success of AGE Reversal Eye Complex is an advanced formulation which does not further traumatise already-compromised eye tissue, particularly through triggering the inflammatory response. One of the key actives, pure Vitamin A or Retinol, is used in a strength of 0.1%, which is sufficient to reverse UV damage and trigger epidermal cell proliferation while at the same time is more gentle than the aggressive concentration associated with retinoid dermatitis (scaling, redness, itching and photosensitivity). By speeding up the cell turnover process, stimulating collagen production and thickening the cell layers in this area, skin appears plumper, fuller and smoother, with fewer wrinkles, and consistent pigmentation distribution.
Likewise, the formula's UGL complex – Urea, Glucosamine HCI, Yeast Extract, Algae Extract – gently micro-exfoliates the eye area without requiring an alkaline pH, one of the major drawbacks of AHAs which frequently result in sensitisation after prolonged use. This non-irritating acid balance exfoliating retexturiser allows skin to maintain its robust lipid barrier protection, resulting in consistent hydration, firmer, smoother skin with fewer surface imperfections such as fine lines and crepiness.
Sodium Ascorbyl Phosphate, a stabilised Vitamin C derivative, serves as a powerful antioxidant to protect tissues from further assault from UV and other free radicals. Several of the ingredients including Fraxinus Excelsior Bark Extract, Niacinamide, Dipeptide, Soy peptides and Rice bran protein, work synergistically to help reverse all aspects of a common under-eye complaint: puffiness, sags, and shadows.