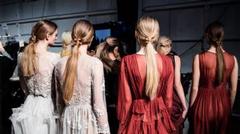 Hair How-To: The Cobra Braid
Aveda Guest Artist Jon Reyman draws on the craft of macramé for Leanne Marshall Autumn/Winter 2016 at the Gallery at Clarkson Square in New York City
Reflecting a Parisian elegance, the Autumn/Winter 2016 Leanne Marshall collection, seen at New York Fashion Week, honed in on the strength and beauty of a worldly woman on a continuous quest for more knowledge. To complement the clothes, Aveda Guest Artist Jon Reyman created an intricately knotted braid based on the macramé cobra knot.
"By employing a traditional macramé stitch technique, we've created a beautifully strong style that speaks to the feminine aesthetic of the clothes, while conveying the message of vigor," Reyman said.
Here, Jon Reyman reveals how to create your own Cobra Braid at home.
Steps to the Look
Step 1: First, spray Aveda Thickening Tonic in your hair and blow dry.
Step 2: Create a center part and then divide your hair into three sections. Secure the middle section into a ponytail at the nape of the neck.
Step 3: Take the left section, make a loop and bring over the ponytail base and under the right section. While holding this formation in place, take the right section under pony base and through the loop on the left side. Tighten together to make a knot.
Step 4: Begin the above process again, but now starting with the right section; keep each knotted section taut as you continue this pattern until the right and left sections are at the ends. Tuck the ends under the pony base and secure with two pins.

Step 5: Set with Control Force™ Firm Hold Hair Spray.
Shop these star products to help achieve this look:
Like these looks? Share it with your friends on Facebook using the hashtag #LivingAveda
See More on Living Aveda
- See more at: http://livingaveda.com/hair-cobra-braid/#sthash.aGAzNUNL.dpuf