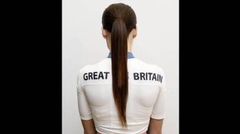 Hair How-To: Sport Chic - High performance hair for high performers
Going for gold requires hair that matches your momentum. Enter this taut and cool ponytail styled by Aveda Guest Artist Paul Knights, last week, for the unveiling of the British 2016 Olympic team uniform designed by Stella McCartney for Adidas.
"We wanted to create a wearable style that complemented the innovative sports technology designs," Knights said. "Our goal was to help the athletes perform without worrying about their hair, thanks to a little assistance from Thickening Tonic to add the right bulk and grip needed to set the style."
Showing off the style and Stella's designs in London, were sixteen of Great Britain's top athletes who will compete in this summer's Olympic games in Rio de Janeiro and the British National Team that will go for gold at the Paralympics.
Here, Paul shares the steps to this chic, sporty look:
Step 1: Section hair and spray a generous amount of Thickening Tonic. Pay particular attention to the hairline and to the roots to add bulk and grip.
Step 2: Comb hair through and blow-dry smooth directing the airflow downwards with tension.
Step 3: Smooth and gather hair backwards into hands and create a low ponytail. Fasten with elastic.
Step 4: Take a small section of hair from underneath the ponytail and wrap around to cover the elastic. Secure with a pin.
Step 5: Lightly mist the finished look with Brilliant™ Spray-On Shine.
Once you create this power pony on yourself, be sure to share a snap of the look on Facebook using the hashtag #LivingAveda.
And here are the star performers that helped create this look:
See more at: http://livingaveda.com/hair-sport-chic/#sthash.j0FqWkGw.dpuf