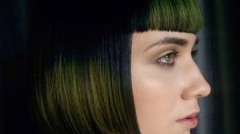 Hair Color Tips From A Master Colorist
Eclipting™ Hair Color Service with Ian Michael Black
Ever wonder what goes on in your colorist's mind when you sit in their chair? We went straight to the source, Aveda's Global Artistic Director, Hair Color, Ian Michael Black, for the scoop on how the pros assess your hue, what's freshest for fall, and how to ensure your shade flatters your face.
"When imagining the best color for a person, I always look carefully at their features," says Black. In fact, he has developed a technique called "Eclipting™" that can be compared to facial contouring, but for the hair. "There's been a lot of talk of contouring for faces. It's all aimed at bringing out the best in somebody. In the past, we've always talked about what tones or color palette will flatter someone. But this technique is more like framing, and if you think about a photo, whenever you stick it in a frame, it pops more," says Black. "With the Eclipting™ service, I'm using Aveda hair color to create subtle shading placed under a fringe, or around the hairline if there are no bangs, to gently frame the face and bring out what's beautiful about the individual."
Above Ian focus for the best color.
Black says that this approach to hair color works on most people, whether they're after a slight or big change—regardless of the length or texture of their tresses. "I can do a subtle or strong version of Eclipting™. It can be more commercial or more edgy," he says. After deciding what needs to be brought out or softened in an individual's face, Black uses a combination of foils and free-hand painting to deepen the fringe and hairline area. Then he adds subtle glints of color throughout the rest of the hair. The base color in an Eclipting™ service may be your own, or may be bold and extreme, for example midnight blue or even green. The accent streaks can also vary in tone from mild to wild.
The personalization comes in the placement of color. "If I want to show your eyes off, I'll take it darker just under the fringe. If I want to make your face look thinner, I might extend the darkness to the sides, which creates illusion of pushing the cheeks in a bit. Color can also be used to offset the density of your hair, says Black. If it's thin, for example, layering a deeper color underneath can create the illusion of fullness.
As for application, Black twists portions of hair before steeping them in color, which results in a more casual, natural effect. Best of all, this means there are no harsh lines of demarcation during the grow-out period.
Are you excited about Eclipting™? Then share this story with your friends on Facebook and Twitter using the hashtag #LivingAveda and #AvedaColor.
To keep your Aveda Color gorgeous, pick up these Aveda must haves:
See more on Living Aveda