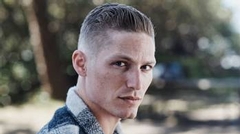 Grooming How-To:
2 Steps to Thicker, Fuller Hair
We keep things quick and easy for the low-maintenance male.
Some men may begin to notice thinning in their early 20's, which can often lead to some anxiety about the future of their hair. Luckily they can now take control with our new Invati Men™ Solutions for Thinning Hair two-step system.
Frank Rizzieri, Aveda Guest Artist and Owner of Rizzieri Salons, Spas and Schools and Franco's Barbering in New Jersey, also offers some important tips.
"A healthy full head of hair starts with a good hair regimen. Start by giving yourself a 2 to 3 minute scalp massage to help the blood flow to the scalp," Frank says. "I also love using the Aveda Wooden Paddle Brush to massage the scalp with the bristles of the brush – they're soft so they won't irritate the scalp. Always comb through any tangles or knots in your hair – continued excessive pulling will break your hair. Lastly, when blow drying your hair, always keep the nozzle on your dryer to avoid unnecessary burning and breakage."
Using the new Invati Men™, here are the two simple steps to do once a day, every day for thicker, fuller hair:
STEP 1: EXFOLIATE
Use the Invati Men™ Nourishing Exfoliating Shampoo to exfoliate and refresh the scalp while conditioning to help strengthen hair. Massage on the scalp to help energize and prepare the scalp for step 2. The wintergreen-derived salicylic acid in the shampoo will help remove build-up and excess sebum, which can clog pores.
STEP 2: THICKEN & INVIGORATE
Towel dry hair and apply the Invati Men™ Scalp Revitalizer leave-in treatment to instantly thicken hair at the root, while helping keep the hair you have longer1. When massaged in, it invigorates the scalp, helping increase micro-circulation, with a potent blend of plant actives. Apply once daily, every day, directly to the scalp, massage in and go. It's that easy.
To try Invati Men™ Solutions for Thinning Hair visit Aveda.com. Invati Men™ Solutions for Thinning Hair is also available in select salons and Experience Centers in North America, and will officially launch worldwide on May 1. To find an Aveda location near you visit our Store and Salon Locator here.
And be sure to share these two steps with your friends on Facebook using the hashtags #LivingAveda anBl;d #InvatiMen.
- See more at: http://livingaveda.com/grooming-2-steps-thicker-fuller-hair/#sthash.BMbHbClq.dpuf