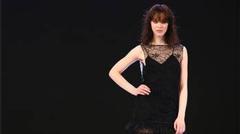 Express Yourself:
New Year, New You
Aveda Artists' advice to help you redefine your personal style
In the blink of an eye, our personal style can let people know who we are and what we stand for. So creating a distinctive look can feel like a big decision, especially with so many fresh new trends continually emerging.
The good news is that our Aveda Artists are chock full of personal style, and their passion involves creating the perfect look suited to the individual wishes of every guest.
And what's even better news is that our artists are on a mission to ensure you're equipped with their pro tips, so you can easily "be the artist" of you at home. And we all want you to celebrate the joys of being unique by sharing the looks you create by using the hashtag, #BeTheArtist.
To help inspire you to share your individualism, our artists encourage you to embrace your own distinct 2016 style with these inspiring insights:
"Love what you've got, but if you want to switch it up, that's great too. For all my curly-haired guests I tell them, 'you can be straight one day and curly the next. You can reshape your curls to fit your mood.'" — Tippi Shorter, Global Artistic Director, Textured Hair
"It's important to figure out what you love about yourself and what makes you unique. For example, I have a classic conservative style, but I like to show off a little bit of flair with my shoes." —Daisy Colinas, Vice President, Partner Salon Group, Collega International, Canada
"To find your personal style, you have to look inward to see what you like and what inspires you, rather than just letting the trends tell you what you should or shouldn't do. Look at the trends, but then reinterpret them to create something that appeals to you personally." —Ian Michael Black, Global Artistic Director, Hair Color
At Aveda Congress 2015: Spirit, Aveda Artist Ian Michael Black shows how one can easily make a timeless cut look distinct with a striking hair color.

"Over the years, my personal style has changed because we all change as time passes and it's important to reflect that. Right now my style is sophisticated yet playful, because life should always have a bit of fun and excitement in it." —Leah Patrick, Aveda Artists at Juut SalonSpa, Minneapolis, Minnesota
"Never let the hair you're born with limit who you are or how you feel. With the right products and techniques, you can unleash hair's full potential and feel gorgeous." —Allen Ruiz, Global Artistic Director, Hair Styling
"I think you have to decide what will work for your lifestyle. Do you have an hour every morning to style your hair? Do you have kids? Your personal style needs to fit into your everyday life."— Heggy Gonzalez, Creative Director, Aveda Institutes Colorado, Arizona, Utah
Celebrating the empowering nature of personal expression Heggy Gonzalez (center) showed off a number of one-of-a-kind styles created by the Aveda Institute presentation she led at Aveda Congress 2015: Spirit
Celebrate your individual style on Facebook and Twitter with the hashtag #BeTheArtist as well as #LivingAveda.
And be sure to pick up some Aveda favorites for personal style creation:
- See more at: http://livingaveda.com/express-new-year-new/#sthash.nh6iHtcS.dpuf