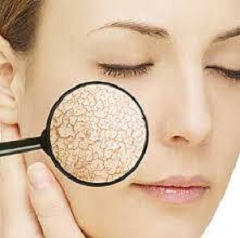 Dry or dehydrated skin – which is it?
dry skin...
Lacks sebum (oil).

Is a natural skin condition from birth.

Feels dry all over, including hands and on scalp.

Is more susceptible to premature aging.

Constantly needs moisturizer, especially in winter.

Needs oil-rich products.

both

flaky

itchy

sensitive

tight

dull
dehydrated
Lacks water.

Can be experienced by anyone.

Can feel oily and dry simultaneously.

May experience breakouts.

Comes and goes based on diet, environment, incorrect product use, and other factors.

Needs water-rich products.

When your skin feels dry, you may naturally assume that it is dry. But it might just be dehydrated and in need of water. What does that really mean? We'll explain.

First, there's skin type and there's skin condition. Your type is what you're naturally born with, such as oily or dry skin. Your condition, however, is something that can cause you to experience other problems like acne and irritation. It can happen to anyone, temporarily or longer, and in some instances, a skin condition can stay for good.

If you have a dry skin type, it means you're lacking oil. You were born this way, and you're dry everywhere else on your body including hands, scalp, legs, etc. When you put on moisturizers and lotions, chances are they soak up fairly quickly. If this sounds like you, be sure to use a dry skin regimen that contains oil- or cream-based products daily. You may also want to keep a hand treatment for dry skin with you at all times.

If you have a dehydrated skin condition, your skin is lacking water. This can be caused by lots of factors such as makeup, diet, incorrect product use, weather; it goes on. But here's where it gets tricky: When skin is dehydrated, it creates more oil to make up for the missing water. This can cause breakouts, irritation and dry patches. Skin can even feel oily and dry at the same time. Sound familiar? Try to identify what's dehydrating you and correct it. Use products like Skin Hydrating Booster and Skin Hydrating Masque to help balance your skin as needed. And keep a toner handy to hydrate your skin throughout the day.

Bonus Tip: While we're on the topic of water, it helps to know that skin is the last organ to receive the nutrients we consume, which means it's the last to get the water you sip. It isn't quite enough though; making topical products a must for skin that feels comfortably hydrated.

shop for dryness and dehydration

top causes behind dry skin

Extrinsic refers to external factors that impact skin health, such as our environment and lifestyle. Below are some of the major extrinsic causes of dry skin.

Weather / Environmental elements

Cold winds and low temperatures can dry out skin, depriving it of balanced levels of oils, and contributing to premature aging.

Prolonged exposure to the sun causes water to evaporate from skin. Forced air heating also dries out skin: warm, dry air acts like a sponge, soaking up moisture from everything it touches.

Lifestyle

The trend of low-fat or fat-free diets can deprive our bodies of skin-friendly Essential Fatty Acids (EFAs) critical to all parts of a healthy functioning body. They help protect against water loss within cells and throughout skin, helping to prevent dryness, keeping skin supple and hydrated. An EFA deficiency can result in chronic itching, dryness, scaling, and thinning.

Smoking can have a drying effect on skin: it drains skin and body of vitamins A and C and constricts blood vessels (which equates to less blood flow) – meaning smoking is somewhat like suffocating skin from the inside.

Excess intake of alcoholic beverages and certain medications (such as nasal decongestants) can also contribute to dry skin.