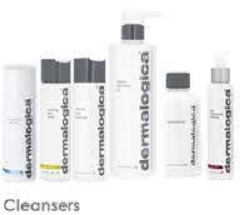 Great skin doesn't just happen for most people. A few lucky ones will get away with claiming good genes or drinking lots of water but for most of us more effort and discipline are required. Regardless of your skin type and condition, you can definitely improve your skin! Also, an ounce of prevention (meaning maintenance) will keep those signs of aging at bay longer.
So, where to start?
Cleansing your face on a daily basis is a must. Whether you are a regular makeup wearer or not, take those 10 minutes at night and follow a routine that's right for you. Your skin needs to recharge at night and it can do this much better when it is well taken care of.
Select a cleanser based on your skin type (normal, dry, oily, acneic) and condition (sensitive, sensitized, robust, aging). Dermalogica and Aveda offer a very large selection of excellent cleansers for all types of skin. The best approach is to ask a skin therapist for advice. We are trained professionals with excellent product knowledge and will be able to help you make a selection. A complimentary face mapping session will give you the opportunity to experience some products and we carry samples for most products.
So, what's out there?
Generally speaking, there are cream/lotion cleansers and foaming/gel cleansers. Cream cleansers are gentler for drier and more sensitive skin. They can have additional ingredients i.e. to help soothe easily irritated skin or contain hydroxy acids for aging and premature aging skin. While gel or foaming cleansers are usually used by people with normal or oilier skin, you can also find ingredients such as salicylic acid for break out prone skin.
When I use my lotion cleanser it won't take all of my makeup off.
Makeup products such as primers, concealers and foundations have improved dramatically over the years. That's great but it also means it is more difficult to take off. Using a Precleanse solution will remove the makeup and then use the cleanser to clean your skin. This is also how a professional double cleanse works in the treatment room.
I have been using bar soap and like the clean feeling.
Bar soap is my least favorite method of cleansing a face. Soaps tend to be too alkaline and drying, leaving a film behind. Also increasing the occurrence of black heads. It doesn't matter who made the soap and how fancy it is, it's still soap. If you like a squeaky clean feel, a gel cleanser is honestly a much better choice.
Do I really have to cleanse at night and in the morning?
That depends on your skin. Often times people with dry skin can skip the morning cleanse, provided they took care of their skin at night. However, oilier skin and specifically acneic skin really need that extra wash to keep bacteria and break outs at bay.
For any questions that you may have, feel free to post your question on facebook or simply call or stop by!