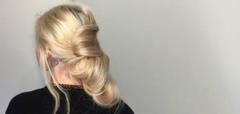 If we're honest with ourselves many of us sport a quick gym bun, top knot or ponytail at least 2-3 times a week, even if we aren't actually keeping our dates with the treadmill. It's functional, albeit a bit boring.
Enter the banana bun–the French girl's answer to the updo that takes just a bit more time, but looks way better than your run-of-the-mill upswept style. Says Sarah Naslund from Escape Salon in Boston, the Aveda Artist responsible for the version featured here, "It's special like a French twist, but the undone feel makes it modern and fresh. This has a glammy daytime vibe -- you've tried, but you haven't tried too hard."
The look takes only a few minutes to whip up and works great on second-day hair and all textures.

Here's Sarah's step-by-step tutorial.
Step 1: Divide your hair into two sections from the crown to behind each ear. You don't want any visible harsh partings–this look is about softness– so use a zigzag pattern when sectioning.
Step 2. Secure the back into a low ponytail, leaving the ends looped into the elastic forming an oblong shape (the banana).
Step 3: Pull front sections back and twist around the ponytail, a bit like you would if you were attempting a French twist. Secure with pins.
Step 4: Pick up the loose ends sticking out of the bun, just push them up into the bottom of the ponytail and secure with more pins. This look feels best if there is a bit of randomness, so it's fine if it isn't perfect.
Step 5: Customize the shape to your liking–massage at the roots if you want a bit of volume or take some hairspray and gently scrunch it into a few loose pieces to frame the face. Sarah likes to use Aveda Brilliant™ Medium Hold Hair Spray because it can be layered repeatedly and leaves no residue.
It's really as easy as that. Grab a few bobby pins and your favorite Aveda styler and try it out!
ARE YOU LOVING THE BANANA BUN?