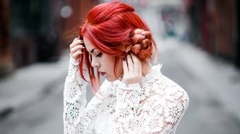 A Beauty Expert's Guide to Being Uniquely You This Summer
Personal Style Blogger Lua Perez-Garreaud talks about summer plans and favorite new hairstyles
Personal style blogger and #AvedaPartner Lua Perez-Garreaud —founder of Le-Happy.com— shows off this summer's edgy new hairstyles. We invited Lua into FOURTEENJAY in New York City where she met with co-owner and Aveda Artist Frank Rizzieri who helped her fashion her own spin on three popular hairstyles.
See here for inspiration to create your own versions of these looks, and find out more about why Lua loves the summertime.
Romantic Look: Braided Updo
The Braided Updo is a wind-swept version of the classic crown braid.
To keep thing breezy and beautiful, Lua takes the idea of a crown braid to create her own plaited updo, complete with varying dimensions of folds and textures, all designed to look effortless while showing off her vivid hair color.
"Summer is my favorite season because you can try so many hairstyles," says Lua. "Clothes play an important role as well, so when you're wearing something light, like a blouse or lacey dress, the right hairstyle completes the look. Just like this dreamy ruffled style; I love how it looks tousled, but still elegant."
For added texture, Frank used Shampure™ Dry Shampoo.
Dramatic Look: Knotted Bun
Full of body and life, the Knotted Bun is a cool take on a half-up bun style.
Looking like an off-duty model, Lua makes the half-up bun look super chic and funky with loads of strands perfectly knotted in place and securely fastened from the face. It has a laid back vibe, but stays put all day as its very tightly put together. For extra oomph, Frank used Thickening Tonic before styling.
"This look will be perfect for my travels. I'm beyond thrilled to be able to spend some time this summer in Europe," Lua says. "I'll be heading to Italy and potentially a stop in London because I love that city so much. I also might go to Peru to visit my family for a couple of days."
Bohemian Casual Look: Beachy Waved Braids
Beachy Waved Braids are perfect for a sunny bike ride or to wear while grooving to your favorite band at a summer festival.
For those sticky-hot days, Lua will tame her fabulous mane with two French braids that meld into ponytails of beachy waves. The look is certainly reminiscent of many of the fun bohemian looks straight out of this season's hottest festivals.
"Summer is all about enjoying the simple things like a walk through the streets of New York City where I live, or a picnic in Central Park," Lua says. "This style is definitely going to be perfect for those lazy days in the city or at the beach, but also for the days when I'm headed to all the wonderful flea markets and festivals that I can't resist."
Lua uses Sun Care Protective Hair Veil as it helps protect hair from sun exposure to minimize damage and dryness.
Are you loving Lua's summer styles? Share this story with your friends on Facebook using the hashtag #LivingAveda
We also want to see your #SummerHair styles created with your favorite Aveda products. Post the looks on Instagram and tag us along with the hashtag #StyledByAveda. And if you need extra inspiration, keep an eye out for the #StyledByAveda Hair How-to Videos for a step-by-step guide to some of the prettiest looks for summer.
And be sure to pick up your summertime Aveda essentials:
Remember you can find the full #SummerHair #StyledByAveda How-to Videos on YouTube with easy steps and more, pulsed throughout all of Aveda's social media channels.
See More from Living Aveda