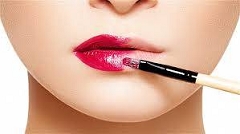 8 Ways to gorgeous lips!
Are you searching for ways to make your lipstick last longer? It's incredibly annoying when your beautiful lip color rubs off before you've barely left the house. So what can you do to maintain a durable look? Try these tips for extra staying power.
1. Prepare your lips
Preparation is one of the best ways to make your lipstick last. Exfoliate your lips gently, using a soft toothbrush, and follow this by hydrating your lips. You can apply lip balm, or you can also use a moisturizer. Wipe off the excess.
2. Prime & Conceal
To give your lipstick something to hold onto, be sure to apply concealer around your mouth and on your lips. For one, we often have uneven skin tone around our lips and mouth and secondly, the concealer will act like a bonding agent between skin and product.
3. Line your Lips
Using a pencil to line your lips will make your lipstick last longer. It's not necessary to match the lipstick color exactly; it's actually a great idea to use a nude liner. Another way to make your lipstick last longer is to use the lip liner to fill in your lips as an 'undercoat,' in the same way that you would prepare a wall before painting. (If you suffer from dry lips only line, don't fill in.)
4. Fill in the Color
Applying lipstick straight from the tube is fine for a top-up of color, or if you're in a hurry. For lasting lipstick, you should use a brush. Don't overload the brush with color, as the color is likely to smudge. Take your time to apply it carefully, so that you don't make mistakes.
5. Correction
We make mistakes or smudges, it happens. No sweat. Have some moistened cotton swabs handy (toner does a great job) and carefully correct your mistakes. Next, use a smaller concealer brush and use a little bit of concealer to touch up where you slipped.
6. Blot & Reapply
Blot your lips using a piece of tissue and then reapply.
7. Touch ups on the go
Even the best lipstick application will eventually wear out. A nice trick to keep things going longer is to apply some lip gloss after a few hours to avoid the "ring" look around your lips.
8. How to take it off
So, the day is over and you are taking off your makeup, however, you notice your lips are still stained? Easy answer: use face oil. Usually face cleansing oils will take care of any leftover stains. Dermalogica's Precleanse or the Aveda composition oils are a great choice (works fantastic on eye makeup as well, just be cautious if you are wearing contact lenses).