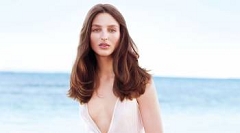 Is your hair looking for a reset button after a long, hot summer?
Three of our top Aveda Artists offer their tips for bringing your hair back to a beautiful nourished state after a season of sun, wind, salt water and chlorine.
"CONDITION AND COLOR IT"
— JO MCKAY, AVEDA EUROPEAN TECHNICAL HAIR SPECIALIST
Aveda's Botanical Therapy and Moisture Immersion treatments act like a drink for the hair. They will help replace moisture back into the hair to help give you that healthy hair of your dreams.

I also recommend clients with damaged hair get a new Aveda color service. Full Spectrum™ will help to bring a shiny, healthy glow to the hair, and you will receive a beautiful new color at the same time. The formula contains up to 96% naturally-derived1 ingredients, including a signature blend of botanical oils that help condition the hair. If you're not looking for a full-on new color, you could also get a clear gloss service with tone added so you get the conditioning benefits as well as the gloss and tone.

"IMPLEMENT CONSTANT CARE WITH A THREE PART SYSTEM"
— HEGGY GONZALEZ, CREATIVE DIRECTOR, AVEDA INSTITUTES COLORADO, ARIZONA, UTAH
It's really important that care for damaged hair is constant. Think about the daily products you are using and then consult your stylist and have them help you to determine if your hair is damaged or dry. They will then recommend the right hair care system for you.

For damaged locks, I go straight for the Damage Remedy™ line and it's important that you are using the full line of products, shampoo, conditioner and treatment. You will always get better results when you treat with a system that is targeted for your hair. After a few treatments a consultation with your beauty professional can determine if a haircut needs to happen and how much will need to be cut off.

"CUT IT OFF"
—RICARDO DINIS, GLOBAL ARTISTIC DIRECTOR, HAIR CUTTING
If there is quite a bit of damage then you need to consider a cut, but how much you cut depends on how much of the hair shaft is damaged. This is usually determined where excessive frizz starts or where you can't comb through your hair without it snapping or tangling. At this point is what should be cut which allows you to eliminate the distressed hair while gaining a new, fashion-forward style.

If taking off too much length makes you nervous then work with your stylist on taking it slow, having trims more frequently but just cutting a little each time. This will give your hair the opportunity to grow as you get rid of the damage.

For stressed-out summer hair, try the Damage Remedy™ line:

Share these tips with your friends on Facebook, remember to use the hashtag #LivingAveda
See More on Living Aveda
- See more at: http://livingaveda.com/three-ways-revive-post-summer-hair/#sthash.FnDy3Bsb.dpuf