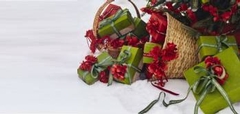 10 Reasons to love Lokta
Helping rebuild Nepal through a partnership with local paper makers
Over the years guests have come to know and love Aveda's signature paper that wraps the holiday gift sets. This beautiful Certified Wildlife Friendly® paper is hand-crafted by the people of Nepal as part of Aveda's now 10 year1 partnership with the Himalayan Bio-Trade (HBTL) papermaking cooperative. The purchase of this paper has created income for thousands of full and part time makers since 2007.2
The 2017 Aveda holiday gift set collection will feature red and green handmade Lokta bark paper gift boxes. And for the first time, select locations will offer custom gifting boxes in 4 colors of handmade lokta bark paper, including natural, brown, red and green as well as 5 colors of ribbon including lavender, ivory, red, brown and green.
With the purchase of one of Aveda's pre-packaged gift sets, guests can become a part Aveda's mission to "care for the world we live in," and help support the community of women papermakers in Nepal.
1 2007, 2008, 2009, 2011, 2012, 2013, 2014, 2015, 2016, 2017
2 5,500 people each year from 2007-2015, 4,900 people each year from 2015-2017.
Aveda's strong 10-year partnership with the paper-making communities continues to help support their families and rebuild their communities after the 2015 earthquakes (and series of severe aftershocks) in Nepal that killed nearly 9,000 people. Thousands more were impacted by the quakes as well, losing their homes and sources of livelihood. In the face of all the destruction and devastation, Aveda is proud to be able to help the people of Nepal rebuild through a continued papermaking partnership with a community of artisans, many of them women. Our lokta bark paper, made from the Lokta bark shrub in the Himalayas by Nepali women and men, provides a means by which they can support their families—it also serves as beautiful wrapping for our in-store holiday offerings. And by purchasing gifts wrapped in Lokta paper from Aveda this holiday season, you too can help the people of Nepal.
To give you an idea of how Lokta paper has impacted one Himalayan community, we spoke to two women, Doma and Januka, who are raising their children in part with earnings from their partnership with us. Januka is a papermaker, the soul provider for her family, and rebuilding her home lost in the earthquakes. Doma's job as a papermaker for Aveda is enabling her sons to go to school. Doma told us: "We had built a house. The house collapsed in the earthquake. Due to the earthquake our work here stalled. It affected us badly. I would like to say to all the sisters and mothers that I know to come here and work with me and earn like me!"

The younger girls in the village are also getting inspired to work. One, who hopes to be a Lokta paper maker someday, said that she'd like to use the money she earns to become a nurse because one of her hobbies is to look after the people in community.
In case those stories aren't compelling enough to make you want to check out our holiday gifts this season, here are 10 more reasons to love Lokta!
1. It is beautifully embossed with our signature holiday design.
2. It is made by hand, one sheet at a time, so no two sheets are exactly alike.
3. It now comes in multiple colors.
4. It is made in Nepal Himalayan forest communities, using authentic techniques.
5. Aveda's purchase of this paper has been helping empower communities in Nepal for 10 years!
6. It allows more than 4,900 people to support their families (full and part time).3
7. It is empowering women, in particular.
8. It has helped enable 5,885 children to go to school.4
9. Aveda's purchase of the Certified Wildlife Friendly® paper purchase helps protect 42,000 acres of habitat for forest animals like the red panda and endangered snow leopard.
10. At a time of year when waste increases by up to 25%5, our gift boxes and bags made with Lokta are recyclable and, better yet, reusable.
3 2015-2017
4 Academic year 2015-2016